15 Non-Diamond Engagement Rings for Nontraditional Brides
From morganite to sapphire, non-diamond engagement rings are more popular than ever. Here, the best colorful gemstones to choose for your engagement ring.
by Danielle Miele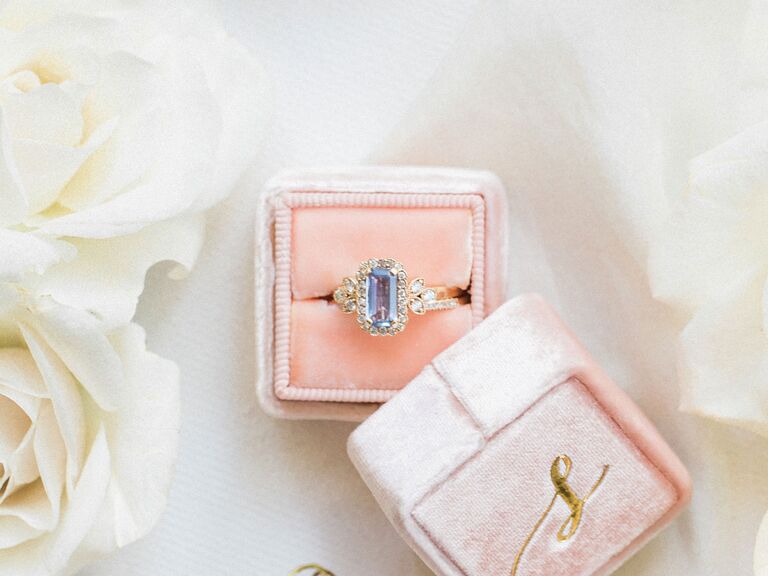 SAMANTHA JAMES PHOTOGRAPHY
Non-diamond engagement rings are having a moment—plain and simple. More couples are thinking outside the box, looking to unique, nontraditional engagement ring options that fit their individual lifestyle and taste. So it's no surprise there's been a noticeable upsurge in non-diamond engagement rings featuring semiprecious gemstones, either in lieu of or in addition to diamonds.
Diamonds have long been a symbol of commitment and eternal love, making them an obvious and coveted engagement ring stone (and don't worry, they're not going anywhere anytime soon). Beyond their radiance and romantic symbolism, they remain a popular engagement ring stone for more practical reasons: Diamond is the hardest material on Earth, ranking a 10 on the Mohs hardness scale.
Considering most people wear their engagement ring every day (often ignoring the advice to remove it when working out, gardening, cleaning and so on) their ring's durability is super important. With that in mind, if you're considering a non-diamond engagement ring, you'll want to know which gemstones look stunning and stand the test of time. You should study up on gemstone hardness and think about how you, personally, live your life and wear jewelry. Do you hit the gym every day? Does your job require you to use your hands a lot? Are you constantly knocking your hands on things?
There are so many beautiful, colorful and unique non-diamond engagement ring options, and choosing one definitely has its upsides. One of the huge ones? Gemstones are often (though not always) less expensive than diamonds of comparable size. And if you love the idea of wearing an heirloom ring, there's a treasure trove of vintage non-diamond engagement ring options to choose from  (foregoing diamonds isn't just a trend—brides of all eras coveted non-diamond center stones too). As long as you do your research to find a reputable source, you can look for non-diamond engagement rings on Etsy or at a local vintage jewelry store.
While nothing can technically match the strength of a diamond, these five gemstones offer similar strengths, making them gorgeous alternatives to a diamond engagement ring—perfect for anyone who wants to put a little twist on tradition.
Sapphire Engagement Rings
Sapphire, September's birthstone, is most known for its blue hue, but you might not realize it comes in a variety of other colors like pink and yellow. Ranking a 9 on the Mohs scale of mineral hardness, sapphire is one of the most scratch-resistant and durable materials after diamond. Kate Middleton's iconic sapphire engagement ring, made famous by Princess Diana before her, has definitely had a hand in sparking the blue sapphire engagement ring craze that just won't quit.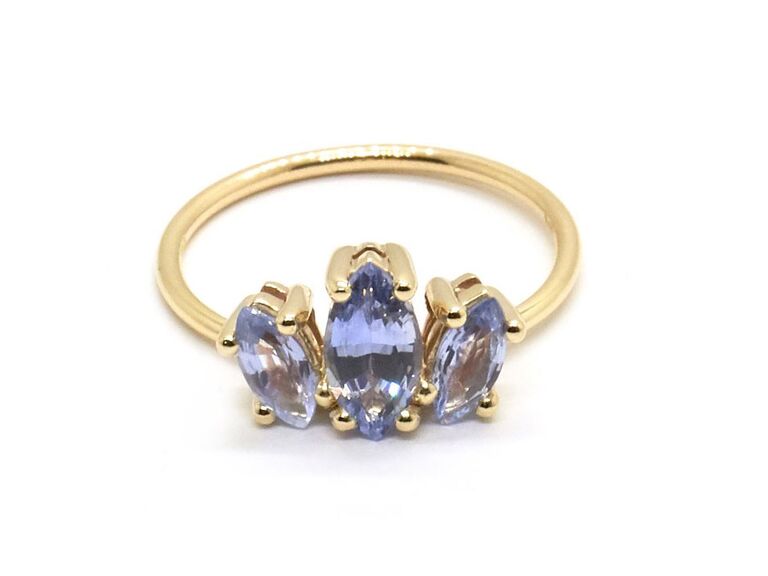 1. Natalie Marie Jewellery Marquise Sun Ring with pale blue sapphires, $1,195, NatalieMarieJewellery.com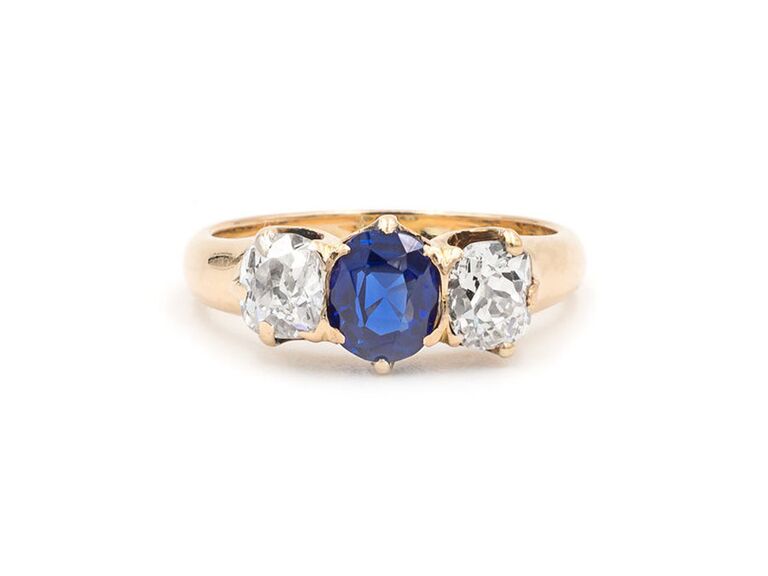 2. The Moonstoned The Sophie Amalie sapphire ring, $3,100, TheMoonstoned.com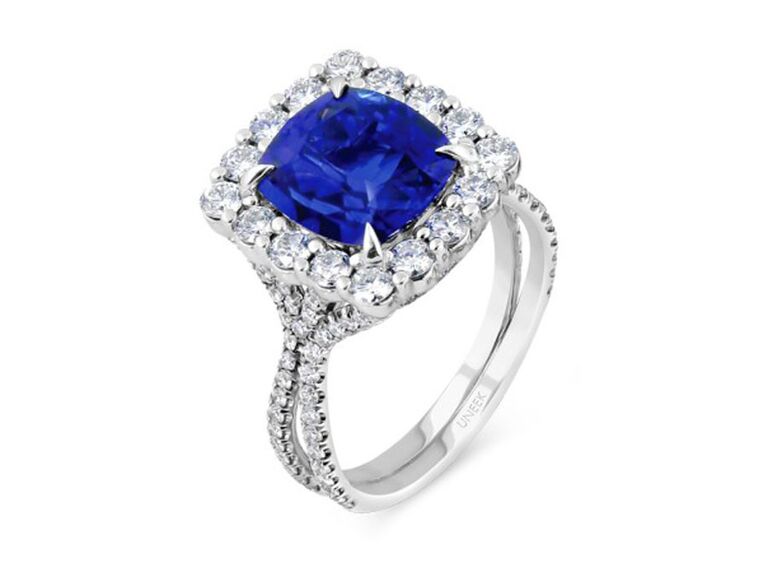 3. Uneek Jewelry cushion-cut sapphire engagement ring, price upon request, UneekJewelry.com
https://www.theknot.com/content/non-diamond-engagement-rings
The everlasting allure of the Toi et Moi - You and Me - ring. 
Stone of March birthdays, the aquamarine is also credited with embodying the energy of the ocean. This gemstone is believed to imbue wearers with an extra measure of elation or serenity...